What my clients say
Pilates makes Monday's feel like Friday's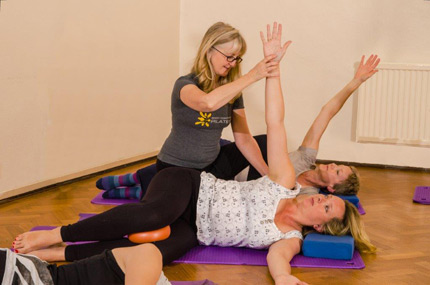 Pilates makes Mondays feel like Fridays!
Be delighted! Susanne's classes are so enjoyable. She brings energy, creativity and sensitivity, varying the routines each week, and at the same time, ensuring that the exercises meet each individual's needs.  Her commitment inspires commitment in all of us and and she rightly has a loyal following.
Susanne was recommended to me when my back had gone into spasm. At the time I couldn't understand how anything other than hardcore drugs and possible spinal surgery (the pain had made me a tad over dramatic!) would work but as neither option was forthcoming I thought I'd give it go.

And I am so glad I did!!! Susanne's classes are so welcoming, calm and relaxed. She instructs so peacefully as if to send you into a trance and lift you out of yourself for an hour of mindfull self meditation. Her classes are gentle and everyone works at their own pace. If she can see you are capable of more then she will gently (Susanne does everything gently) but firmly push you. There's no slacking on Susanne's watch!

When I first went to Susanne I thought all free movement was gone, that I'd abused my body and it had just given up on me and I would be struggling from then on. Within weeks she had me pain-free and within months I'm back to full strength.

Susanne's class is a calming restorative Pilates designed to realign the body and keep it mobile and fluid. Perfect for those of us that need a little bit of tlc without punishing ourselves too much.
I have benefitted greatly from attending Susanne's pilates classes.  I enjoy the professional but friendly atmosphere and feel that longer term improvements for me include relaxation, posture, body shape and breathing.  I very much look forward to my weekly sessions.